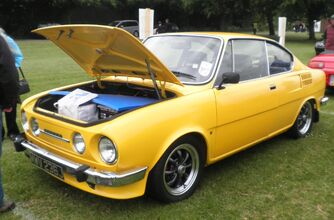 The
Škoda 110 R
was a rear-engined, rear-wheel drive car that was produced by Czech manufacturer Škoda Auto in Kvasiny, Czechoslovakia, between 1970 and 1980.
The 110R Coupé succeeded the sporty Škoda 1000 MBX/1100 MBX. It used all the same mechanical components as the Škoda 100/110 saloons plus an uprated 62 bhp (46 kW) 1,107cc version of Škoda's 720-type OHV four. Eventually, this basic configuration was punched out to make the rally-specific homologation 130 RS, and one-off 1.8-liter OHC 180 RS and 2.0-liter OHC 200 RS specials. The ultimate evolution came in 1975, Bořivoj Kořínek's fuel-injected, 250hp 2000 MI "Grenade."
After a production run of ten years, production of the 110R Coupé ended in 1980. During those ten years, a total of 56,902 110R Coupés were made.
Ad blocker interference detected!
Wikia is a free-to-use site that makes money from advertising. We have a modified experience for viewers using ad blockers

Wikia is not accessible if you've made further modifications. Remove the custom ad blocker rule(s) and the page will load as expected.