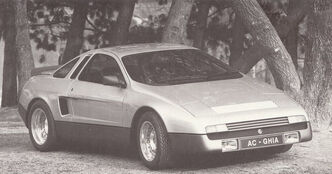 The
AC Ghia
is a concept car built in 1982 by
Ghia
for
AC Cars
.
The car is amazingly compact less than 12 1/2 feet long, only 3 feet 10 inches high and under 5 feet wide, yet it has a comfortable interior upholstered and trimmed in black cloth.
Configured in right hand drive for the UK market where the 3000 ME was sold, the AC Ghia concept has 2-piece alloy wheels with 225/50VR-15 Pirelli P7 tires, definitely the hot ticket for performance cars in 1982.
The rear wheels have a deep offset which accentuate the AC Ghia's powerful stance. Driving lights are integrated in the front air dam. The traditional curved AC emblem adorns the wheel center caps and the center of the leather-rimmed 3-spoke steering wheel. The windows in the AC Ghia concept are plexiglass.
Ad blocker interference detected!
Wikia is a free-to-use site that makes money from advertising. We have a modified experience for viewers using ad blockers

Wikia is not accessible if you've made further modifications. Remove the custom ad blocker rule(s) and the page will load as expected.