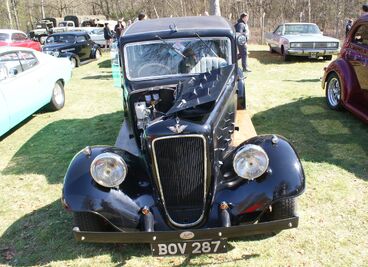 The Austin 16 was a British car made by the Austin Motor Company between 1927 and 1936. The "16" name was re-used in the post war Austin 16 hp.
The car was introduced as a medium saloon in 1927 sitting above the 7 and 12 hp (9 kW) models but smaller than the 3.5 Litre 20. The six-cylinder engine was new but had similarities to the one fitted to the 20 with timing chain at the rear of the block. The car was up to date with the gearbox mounted in-unit with the engine and semi elliptic springs all round for the suspension. Safety glass was fitted from 1929.
In 1934 the gearbox gained synchromesh on 3rd and 4th gears and a larger-engined (2511 cc) Austin 18 model was added. An early automatic gearbox was available between 1934 and 1936 but few sold.
The car could reach 60 mph (97 km/h) and return 21 miles per imperial gallon (13 L/100 km; 17 mpg-US) depending on the body fitted.
Gallery
Ad blocker interference detected!
Wikia is a free-to-use site that makes money from advertising. We have a modified experience for viewers using ad blockers

Wikia is not accessible if you've made further modifications. Remove the custom ad blocker rule(s) and the page will load as expected.