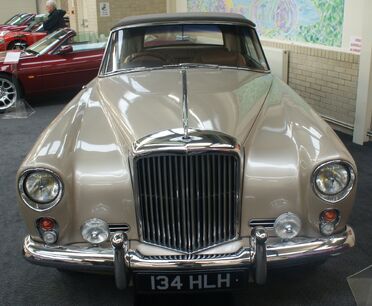 The
Bentley S2
(and the high-performance
Bentley Continental S2
derived from it) was a luxury car produced by Bentley from 1959 until 1962. The changed designation S2 was to mark the new V8 engine and the improved air conditioning which could now be run from it. There were no other significant alterations.
Announced at the beginning of October 1959 as with the Rolls-Royce Silver Cloud II, the S2 replaced the straight-6 engine of the Bentley S1 with a new aluminium V8 engine displacing 6.2 L (6230 cc/380 in³). With this new engine, the S2 offered significantly better performance than the previous cars.
1,920 standard and long-wheelbase car chassis were built between 1959 and 1962. Almost all were fitted with standard factory bodywork. A number had coachbuilt bodies by Park Ward, Hooper, H. J. Mulliner & Co., and James Young.
388 more Continental chassis were built with higher performance engines and higher gearing for lighter bodywork built by the same group of coachbuilders.
Gallery
Ad blocker interference detected!
Wikia is a free-to-use site that makes money from advertising. We have a modified experience for viewers using ad blockers

Wikia is not accessible if you've made further modifications. Remove the custom ad blocker rule(s) and the page will load as expected.