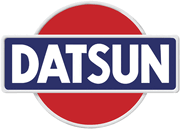 Datsun was the name Nissan used before it became Nissan. Nissan was the parent company of Datsun, and in the late 1970s on some models, Datsun started using the Nissan name on the car to eventually phase the name in once it was decided that the Datsun name would be dropped. The newly introduced 1982 Nissan Sentra (replacing the outgoing 210 model) was the first Nissan model that would actually be known primarily as a Nissan instead of a Datsun, even though it still sported a small Datsun badge.
Gallery
Subcategories
This category has only the following subcategory.
Pages in category "Datsun"
The following 48 pages are in this category, out of 48 total.
Ad blocker interference detected!
Wikia is a free-to-use site that makes money from advertising. We have a modified experience for viewers using ad blockers

Wikia is not accessible if you've made further modifications. Remove the custom ad blocker rule(s) and the page will load as expected.