Home
Talk

4
5,604pages on
this wiki

Welcome to The Classic Car Wiki
The wiki about Classic Cars that anyone can edit! Please refer to the Wiki Rules and the Image Guidelines before starting your editing.
5,604 Articles, 7,485 Images and 52,165 edits since August 2011.
This wiki is dedicated to Classic Cars. Classic Cars are cars that are older than 25 years of age. This means in 2013, a classic car is one which was manufactured during or before 1988.
Find us on Facebook

and follow the restoration of our 1987 Toyota MR2.
Our goal is to make a concise guide to every car which is older than 25 years of age. This is because it we regard as a classic (there is some disagreement towards what makes a classic car). We will be including cars from all countries. We also aim to provide information about the manufacturers who have contributed to the world of classic motoring.
If you would like to help by adding a photo or adding a page, go for it!
Please watch this space for all the latest wiki news!
Featured Article
The Citroën 2CV or Deux Chevaux was produced from the 1950s until 1990. It is an unusual shaped car and has been compared to the Volkswagen Beetle.
The Citroën 2CV also had a role back sunroof.
This article has been randomly selected from all of our articles. Each time you visit our site, you should see a new article here. For more information about it, click on read more. The resulting page will be the original article to be able to read the rest of it.

Jaguar Cars Limited is a luxury car manufacturer, originally based at Browns Lane, Coventry, England but now at Whitley, Coventry. It was founded as the Swallow Sidecar Company in 1922, changing to SS Cars Ltd in 1934, and finally becoming Jaguar Cars Ltd in 1945.
Jaguar has produced cars such as the legendary E-Type and the Mark II.
Look at your favourite manufacturer's page today!
We aim to provide a guide to all the TV shows and Movies in which Classic Cars star. Everything from the DeLorean DMC-12 in the Back to the Future trilogy to the Mercedes-Benz 280SE 3.5 Cabriolet in The Hangover.
Why we like Classic Cars
We like classic cars as they are the cars we used to drive in when we first passed our driving test and cars which our parent's had when we were kids. They are also very different to the cars on the road today.
At the turn of the century, most cars on the road were either electric or steam driven. The Internal Combustion Engine was a relatively new concept. It was only the outbreak of the two world wars that really pushed the automotive industry along. The engines were needed for aircraft and the military needed vehicles to ferry their men around. Some cars were mass produced before the First World War such as the Ford Model T, but most were only available to the rich that could afford them.
After the Second World War, the car industry in took off producing cheaper cars in vast numbers. Most of these early cars can still be seen today. They are a lot harder to find than say a car that is 40 years old or so but there are still quite a lot of them driving around.
Classic cars are rarer than modern cars but have more passion and soul. This is because many of them were hand made and have been carefully looked after or restored by their owners. They don't all look the same as manufacturers experimented with hundreds of body styles to make their models stand out.
We love classic cars as they are part of our heritage and because they are better than their modern counterparts!
Please help us expand the wiki by adding pages and photos of your favourite classic cars!
Some of the best photos on the wiki.
Do you like wedge-shaped cars?
Your feedback will be used to help us improve the wiki!
You can now join our new IRC Channel.
Featured Image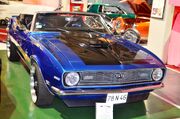 This image has been randomly selected from our archives. Each time you visit our site, you should see a new image here. For more information about it, click directly on the image. The resulting page will detail when it was uploaded, by whom, and often overview which articles use that particular image.
Please feel free to upload as many images as you like. Have fun!
Special Thanks
Special Thanks to:
Motoring News
Aston Martin turns 100 during 2013.
Lamborghini turns 50 during 2013.
Mayor of Paris wants to ban cars over 17 years old from Paris
Renault launches new heritage website: http://en.renaultclassic.com/
To read any previous news please click here.
Facts
1. The first cars did not have steering wheels. Drivers steered with a lever.
2. The first speeding ticket was issued in 1902.
3. In 1916, 55 percent of the cars in the world were Model T Fords, a record that has never been beaten.
4. The first gas gauge appeared in cars in 1922.
5. The first car radio was invented in 1929.
6. Most American car horns beep in the key of F.
7. The automobile is the most recycled consumer product in the world today.
8. In 1914 a Ford Model T rolled of the line every 2 minutes.
9. In its 1st year the VW Beetle sold only 330 cars in the United States.
10 .The first Ford cars had Dodge engines.
We hope you enjoy these facts about cars and automotive history.
We hope you find these links useful
Disclaimer
Please be aware that some of the information on this site is based on that from Wikipedia. We do add information to pages based on that from our own knowledge and that of what classic car owners and other people have told us. We do also write and add to pages with the help of online research.
We try our best to confirm that the information is correct. We upload our own photos from car shows, museums and other classic car events.
This site is still a working progress!