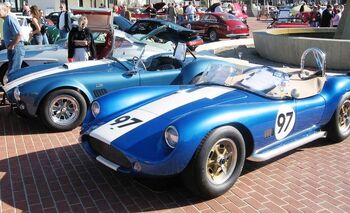 The
Devin SS
was a sports kit car built between 1955 and 1958. Only 15 copies were sold.
Its chassis which was 2337 mm long came from Ireland, this was then mounted with a two-seat roadster body.
The car was powered by a  4638 cc V8 engine which was taken from a Chevrolet Corvette. The engine developed 220 hp (162 kW) and accelerated the car from 0-100 km/h in 4.8 seconds and help it achieve a top speed of 225 km/ h.
The engine was mounted to a manual four-speed gearbox from Borg-Warner which then power transferred to the rear wheels.
Due to the high selling price of $5950 not many were sold (see above for production figure).