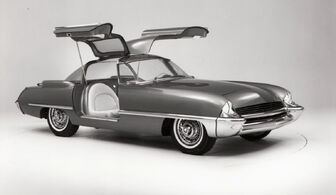 The Ford Cougar 406 is a concept car for the Ford Thunderbird built by Dean Jeffries for the Ford Motor Company. The cougar featured Mercedes 300 SL-type gullwing doors, and was originally painted in Candy Apple Red. The car was unveiled at the 1962 Chicago Auto Show. The original was a 3/8-scale model from 1956. This was the second car to be under the Cougar nameplate.The car has 405 horsepower. On the car there was swing-up headlights on the front fenders.
In 1963, the Cougar was used in Frederick Brisson's film version of his Broadway comedy hit "Under the Yum Yum Tree".
Ad blocker interference detected!
Wikia is a free-to-use site that makes money from advertising. We have a modified experience for viewers using ad blockers

Wikia is not accessible if you've made further modifications. Remove the custom ad blocker rule(s) and the page will load as expected.