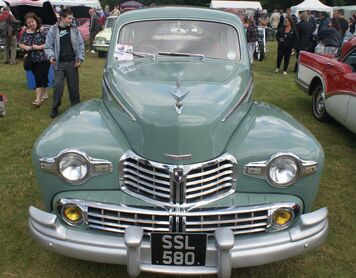 The
Lincoln H-series
is a full-size luxury car that was sold from the 1946 through the 1948 model years.
Their appearance was very similar to the contemporaneous Lincoln Continental coupe and convertible. An electric clock was standard. This series of vehicles continued to use the 305 in³ (4.8 L) 65° L-head Lincoln V12 engine.
Ad blocker interference detected!
Wikia is a free-to-use site that makes money from advertising. We have a modified experience for viewers using ad blockers

Wikia is not accessible if you've made further modifications. Remove the custom ad blocker rule(s) and the page will load as expected.