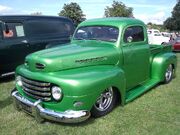 The
Mercury M-Series
pickup truck was produced between 1946 and 1968 by Ford Motor Company of Canada, primarily for Canada. Early versions often came with a higher output (CM-1 designated) Mercury/Ford flathead V8 engine over and above the Unique Mercury Specific Grille, Badging and Trim that adorned ever Mercury M-Series Truck.
The M-Series was introduced in Canada because smaller communities had either access to an only Ford dealer or a Lincoln-Mercury-Meteor dealer, but not both; a Mercury truck line offered more opportunities for truck sales.
Pickup Trucks
Between 1948 and 1968 Ford of Canada used the "F" prefix for Ford and "M" for Mercury. From 1948-1950 nominal tonnage ratings were replaced by a series designation in which the numbers indicate the GVWR when equipped with tires of appropriate capacity. Each code number is arrived at by dividing the GVWR of the series by 100. Thus an F-47 (M-47) indicates a GVWR of 4700 lbs. per axle or 9400 lbs. total for front and rear axles combined, F-135 (M-135) indicates 13500 lbs., etc. Each truck series is rated to its GVWR. In 1951-52 Ford of Canada got back in step with Ford USA with F-1 (M-1), F-2 (M-2) etc. (GVWR = Gross Vehicle Weight Rating - weight of chassis, cab and body, plus payload)
Ad blocker interference detected!
Wikia is a free-to-use site that makes money from advertising. We have a modified experience for viewers using ad blockers

Wikia is not accessible if you've made further modifications. Remove the custom ad blocker rule(s) and the page will load as expected.