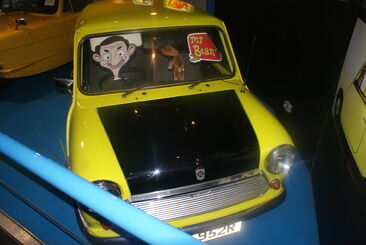 Rowan Atkinson plays the rubber faced fool which drives a
Mini 1000
. He is hopeless at all the tasks he tries. Rowan adds humour to his character with the range of faces which lives on his own with his teddy. The Reliant Robin also features in this TV Series.
There has been a spin-off TV Cartoon series and the film 'Mr. Bean's Holiday'.
Gallery
Ad blocker interference detected!
Wikia is a free-to-use site that makes money from advertising. We have a modified experience for viewers using ad blockers

Wikia is not accessible if you've made further modifications. Remove the custom ad blocker rule(s) and the page will load as expected.