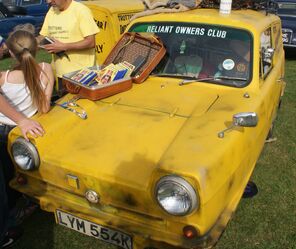 Only Fools and Horses is a British comedy, one of the greatest British comedy's of its time probably one of the best ever. It is about a trader called Derek Trotter (played by David Jason) in his escapades to get the best offers in dodgy wears with his brother Rodney Trotter (played by Nicholas Lyndhurst). There adventures in the south of London, in Peckham, are hilarious and makes British comedy history.
One of the best icons in this comedy is the 3 wheeled vehicle, the Reliant Regal, that makes only fools and horses one of the greatest comedies and is a very recognisable icon in the comedy. the old banger carrys there goods from there flat to the market stools and is a key source to the so-called success.
Gallery
Ad blocker interference detected!
Wikia is a free-to-use site that makes money from advertising. We have a modified experience for viewers using ad blockers

Wikia is not accessible if you've made further modifications. Remove the custom ad blocker rule(s) and the page will load as expected.