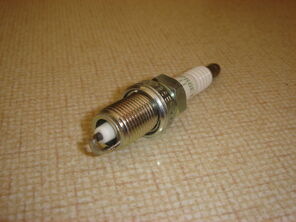 A
Spark Plug
is an electrical device that fits into the cylinder head of some internal combustion engines and ignites compressed fuels such as aerosol, gasoline, ethanol, and liquefied petroleum gas by means of an electric spark.
Spark plugs have an insulated central electrode which is connected by a heavily insulated wire to an ignition coil or magneto circuit on the outside, forming, with a grounded terminal on the base of the plug, a spark gap inside the cylinder.
Ad blocker interference detected!
Wikia is a free-to-use site that makes money from advertising. We have a modified experience for viewers using ad blockers

Wikia is not accessible if you've made further modifications. Remove the custom ad blocker rule(s) and the page will load as expected.