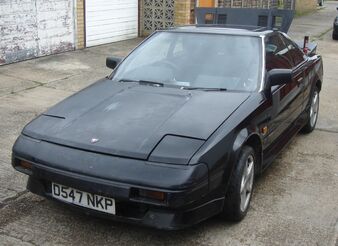 The small and light
MR2
was something no one had expected from Toyota, known for their economical and practical family cars.
The two-seat MR2 was definitely not practical as a family car and nor was it intended to be, having been designed instead with style and sport as priorities. The moniker 'Mid-engined Runabout, 2 Seater' was more than a marketing tool - it was the fundamental design philosophy. The folded angular lines evoked origami paper sculpture. Other cars with a similar design concept including the Lancia Beta Montecarlo, Fiat X 1/9 and the exotic Lancia Stratos were all produced in the 70s and early 80s. The most important features of the MR2 were its light body (as low as 2,095 lb (950 kg) in Japan and 2,350 lb (1066 kg) in the US), superior handling and lightly powered, small-displacement engine. The car is often referred to as the AW11, referring to the chassis code of the most common 1.6-litre, A-engined versions.
Some rumors have persisted that the MR2 was designed by Lotus. This is a reference to the Lotus M90 (a.k.a. the X100) project, but this was scrapped after a single prototype was built. This used the same engine and gearbox as the MR2. At the time, Toyota, along with the Chapman family was a major share holder in Lotus, but General Motors later acquired majority control. However, the MR2's suspension and handling were designed by Toyota with the help of Lotus engineer Roger Becker. Toyota's cooperation with Lotus during the prototype phase can be seen in the AW11, and it owes much to Lotus's legendary sports cars of the 1960s and 1970s.
As a power plant, Toyota chose to use the naturally aspirated 4A-GE 1,587 cc straight-4 engine, a dual overhead-cam, four-valve-per-cylinder motor. This engine was also equipped with DENSO electronic port fuel injection and a variable intake geometry ("T-VIS"), giving the engine a maximum power output of 112 hp (84 kW) in the US, 128 hp (95 kW) in the UK, 116 or 124 PS (85 or 91 kW) in Europe (with or without catalytic converter), 118 hp (88 kW) in Australia and 130 PS (96 kW) in Japan. Japanese models were later downrated to 120 PS (88 kW). The engine had already been introduced earlier on the AE86 Corolla, gathering a lot of positive publicity. A five-speed manual transmission was standard and a four-speed automatic was optional. Road tests delivered 0-60 mph times in the mid- to high-8 second range, and 1/4 mile times in the mid- to high-16 second range, significantly faster than the four-cylinder Pontiac Fiero or Fiat X1/9. In the home market, the AW10 base model was offered, which used the more economical 1452 cc 3A-U engine rated at 61 kilowatts (82 hp), but it attracted few buyers.
In 1987 (1988 for the US market), Toyota introduced a supercharged engine for the MR2. Based on the same block and head, the 4A-GZE was equipped with a small Roots-type supercharger and a Denso intercooler. T-VIS was eliminated and the compression ratio was lowered to 8:1. It produced 145 horsepower (108 kW) and 140 foot-pounds (190 N·m) and accelerated the small car from 0 to 100 km/h (0 to 62 mph) in 6.5 to 7.0s. The supercharger was belt-driven but actuated by an electromagnetic clutch, so that it would not be driven except when needed, increasing fuel economy. Curb weight increased to as much as 2,494 pounds (1,131 kg) for supercharged models, due to the weight of the supercharger equipment and a new, stronger transmission. A fuel selector switch was also added in some markets, to allow the car to run on regular unleaded if required to. In addition to the new engine, the MR2 SC was also equipped with stiffer springs, and received special "tear-drop" aluminium wheels. The engine cover had two raised vents (only one of which was functional) that visually distinguished it from the normally aspirated models. It was also labeled "Supercharged" on the rear trunk and body mouldings behind both doors. This model was never offered in European or Australian markets, although some cars were privately imported.
Changes by year
1986
T-bar roof option available in Japan
Revised transmission
Color-keyed bumpers, side stripes, side skirts available
Leather interior becomes an option
Rear anti-roll bar discontinued on North American models
1987
Supercharged model introduced in Japan, offered with four-speed A/T or five-speed M/T
T-bar roof available in North America and Europe
Slight unibody changes
Revised rear suspension and larger brake rotors
New front lip
New tail lights for North America
Naturally aspirated 4A-GE rated at 115 horsepower (86 kW) in America
Air filter relocated to the trunk
New center console, steering wheel, gauge cluster markings, and seat colors
1988
Supercharged model available in North America
1989
Incandescent third brake lamp replaced by LED strip integrated into the rear spoiler
North American supercharged models equipped with rear anti-roll bar
Toyota 222D rally car
While Toyota's front-engine, rear-drive Celica rally cars proved dominant in the African Group B rallies of the 1980s, they were at a disadvantage on the twistier European stages. Thus in 1985 Toyota Team Europe started a rally project codenamed "222D" based on the MR2, for competition in Group S and potentially Group B as well. Though somewhat similar on the outside, it's clear that it shared nothing with the production car. Little is known about this project because it never competed before Group B was canceled in 1986.
During a surprise appearance at the 2006 Goodwood Festival of Speed, Toyota drove and displayed a black 222D. The race-ready car weighed around 750 kilograms (1,700 lb) and its transverse-mounted, four-cylinder, turbocharged engine (what appears to be a 503E race engine, though other prototypes may have used the 4T-GTE) was reported to produce as much as 750 horsepower (560 kW). A V6-powered prototype was also rumored to exist, but has never been seen in public.
Gallery
Evolution of the Toyota MR2
Ad blocker interference detected!
Wikia is a free-to-use site that makes money from advertising. We have a modified experience for viewers using ad blockers

Wikia is not accessible if you've made further modifications. Remove the custom ad blocker rule(s) and the page will load as expected.