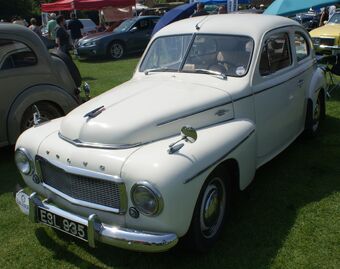 The
Volvo PV444
was Volvo's first uni-body car. It was also the first Volvo in almost 20 years to come with a 4-cylinder engine. The first PV444s were powered by a 40 hp 1.4 L inline-4 engine designated the
B4B
, with three main bearings, overhead valves, and a single downdraft carburettor. Late in 1955, an uprated version called the
B14A
was given twin side-draught 1½in SU carburettors.
By the 1957 model year, engine displacement was increased to 1.6 L and both single downdraft- B16A and twin side-draught-carburetted B16B versions were offered. Fuel economy was quite above average and performance particularly with the twin carburetor configuration was brisk. The combination of performance and durability won over many two-seat sports car drivers, allowing them a pleasurable drive in the entire family's company if desired.
Gallery
Ad blocker interference detected!
Wikia is a free-to-use site that makes money from advertising. We have a modified experience for viewers using ad blockers

Wikia is not accessible if you've made further modifications. Remove the custom ad blocker rule(s) and the page will load as expected.